Forte grants record sums for new research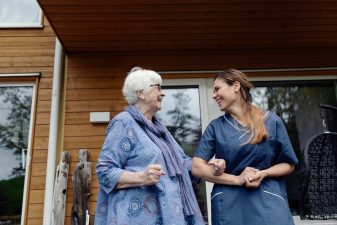 On 30 September Forte granted nearly SEK 750 million for new research in the areas of health, working life and welfare. In 2021, the research policy bill has enabled an historically large investment in research in Forte's areas.
Forte is now granting SEK 746 million in funding for new research for the years 2021–2027. The new decisions apply to applications submitted in response to eight different calls for proposals that were open in the spring of 2021. Several of them are tied to the challenges that were prioritised in the 2020 research policy bill.
"I'm proud and happy that we've managed to live up to the government's expectations and allocate an historical amount of research funding to urgent and high-quality research in Forte's areas," says Jonas Björck, Director General of Forte.
Research that meets societal challenges
As much as SEK 173 million will go to research on the challenges of working life. Ten research programmes in the field are receiving funding to study issues such as integration into the labour market, career barriers for women in science, and methods for counteracting sexual harassment in working life.
In addition, funding has been granted for research on public health and prevention, with a focus on the use and misuse of alcohol, drugs, tobacco and gambling. Funding is also going to research on disability, health and social care for the elderly, and the effects of the green transition on working life.
"The common denominators here are social sustainability and the overarching principle 'no one left behind'. These are initiatives that link inequality and vulnerability in various ways, and where the research is intended to contribute to a more sustainable society," says Olle Lundberg, Secretary General of Forte.
An historical amount of research funding
In 2021, Forte has announced and granted more research funding than ever before. By the end of the year, it is estimated that a total of SEK 1.15 billion will have been granted, compared with SEK 555 million in 2020. This record-breaking investment has been made possible through the assignments and grant increases allocated to Forte in the 2020 research policy bill.
"In economic terms, the bill was historically front-heavy. Out of a total of SEK 3.75 billion, the Swedish Government has chosen to distribute as much as SEK 3.4 billion in grant increases as early as 2021. For Forte, this has meant that in 2021 we've already received an extra SEK 105 million in funding, out of a total increase of SEK 180 million that will be achieved by 2023," says Jonas Björck.
Of the SEK 746 million that has now been granted, SEK 410 million will be allocated to research within five targeted calls for proposals tied to the research policy bill. Just over SEK 324 million will go to project applications within Forte's annual open call for proposals, which covers research in all of Forte's main areas. In addition, SEK 12 million has been granted to networks and journals in Forte's areas.
List of granted applications and funds
Lists of all granted applications are published on the page Grant decisions.