Two upcoming calls within the working life area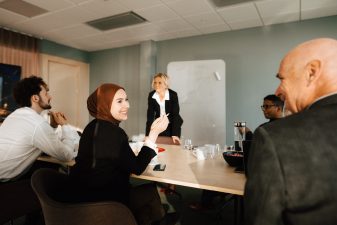 During autumn 2022, Forte plans to open two calls for proposals within the area of working life. A total of SEK 156 million has been allocated for the years 2023–2028. Both calls are carried out within the national research programme for working life research.
Challenges in working life 2023
Forte is opening a call for research on the challenges in working life. The initiative will be carried out during 2023–2028 and covers a total of SEK 120 million. The funded research will be addressing the challenges of working life by generating and disseminating new knowledge.
Within this call, researchers can apply for six-year programme grants. The purpose of the grants is to enable the establishment of new or strengthening existing research environments.
Applications must focus on one of the following challenges:
The significance of digital technology for an efficient and flexible working life, in relation to people's circumstances and needs
Green transition and working life
Developing a welfare system to support a sustainable working life
Female-dominated professions: physical and psychosocial work environment, in relation to how women's professions are valued and women's salaries
Time plan
The will be open for applications between 13 October 2022 and 17 January 2023. Grant decisions will be published in May 2023.
Co-creation for sustainable working life development 2023
Forte has allocated SEK 36 million for co-creation research for a sustainable working life development, for the years 2023–2025. The research will contribute to increased knowledge on how to solve complex challenges within the working life area. Within this call you can apply for three-year project grants.
According to the Government commission to Forte, the national programme for working life research should contribute to the impact of research results in society, in the form of development, knowledge creation as well as evidence-based practice and management. Involving users in the research process increases the likelihood for research impact.
Co-creation research is a method where those who will use or benefit from the research results are involved in the research process. The aim is often to solve a complex problem where multiple perspectives can increase the possibility of being successful. A basic premise is that everybody has experiences and competences that can generate relevant knowledge of high quality.
Areas that are well suited for co-creation research is:
Adapting working life to demographic changes and creating conditions for sustainable labour force participation
Increasing the inclusion of under-represented groups
Developing organisation and management with the aim of improving working conditions and efficiency
Ensuring the effective implementation and utilisation of knowledge about working environment
Time plan
The will be open for applications between 20 October 2022 and 17 January 2023. Grant decisions will be published in May 2023.
---
Please note that the specified application periods are preliminary and may change. More detailed information about the calls will be published when the calls open. You can find more information about the mission and focus of the national programme for working life research in the programme's strategic agenda.