A genderconscious working environment – combatting conflict with knowledge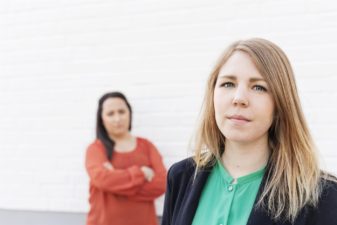 What do employees in elementary school, social services and aged care have in common? That's right – the majority are women. And we all know how women are. They just can't get along.
This statement, of course, has no scientific basis. "It's a myth about the sex", says Britt-Inger Keisu, Associate Professor at the Department of Sociology at Umeå University. However, it is a view that is still quite common among us.
Previous studies do in fact show that conflicts are more common in female-dominated workplaces than in those where the proportion of women and men is even. On the other hand, we also know that female-dominated professions are generally characterised by poorer working environments, and that the level of poor health and sick leave is higher. This is possibly where we can find explanations.
Britt-Inger Keisu does not believe that women have some kind of inherent conflict-seeking driving force. Women do not fight because they are women. But she believes that a poor working environment can provide solid ground for conflict.
Gender-conscious conflict management
"There are many perceptions about how women are and how women should be: women backstab each other, they can't make decisions, and they can not get along. These kind of myths are of great importance to our psychosocial work environment and it is important to draw attention to it", says Britt-Inger Keisu.
Because what happens at a workplace where gender consciousness amongst the staff is high? What does this mean for conflicts and how they are managed? And how does it affect relationships and stress at work?
This issue is now the subject of Britt-Inger Keisu's newly started research project "Can workplace conflict be constructive? A study of conflict and mental health in women dominated work place from a gender perspective". The research will focus on both constructive and destructive conflicts. Broadly this includes both job-related and interpersonal conflicts. The project is divided into a quantitative and qualitative part: a survey that identifies the occurrence, causes and consequences of conflicts in selected occupational groups, as well as a series of workplace studies in the form of interviews and workshops with managers, employees and union representatives.
What happens at a workplace where gender consciousness amongst the staff is high? What does this mean for conflicts and how they are managed? And how does it affect relationships and stress at work?
The research group does not only want to investigate the workplaces in the study, they also want to influence them. During the workplace studies, the research group will analyse, problematise and then feed back the results directly to the organisations. The aim is to raise awareness of gender and conflict among managers and employees. In the next step, they also want to initiate change processes together with the affected workplaces.
"I don't think we will start any revolutions", says Britt-Inger Keisu, "but it will be of help along the way. We are hoping to reach people who are important for systematic workplace and development work. I believe that knowledge is important for a workplace".
The backbone of the welfare society
While a poor working environment and poor working conditions can be expected to create conflicts, conflict can also contribute to an unhealthy and stressful environment for employees. Today, conflict management occupies a great deal of work time for managers as well as employees. This is serious.
The occupational groups that Britt-Inger Keisu and her team have chosen to study are important to the public sector in Sweden. This includes social workers within social services, nurses in aged care and primary school teachers. They represent, as Britt-Inger Keisu says, "the backbone of welfare", and are essential for us to function as a society.
So, is it not time to strengthen the structure that carries us?