Eight research projects to contribute with knowledge about elderly care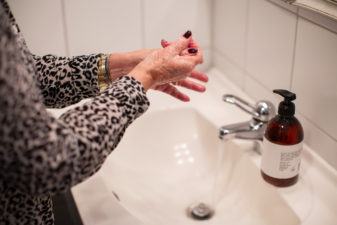 Eight research projects have been granted funding to contribute with new knowledge about the care of elderly people. The projects will, among other things, study the experiences of nurses during the ongoing pandemic, the impact of various interventions and various ways in which to reduce loneliness among the elderly.
The coronavirus pandemic has had a devastating effect on the care of our elderly. Considerable attention has been drawn to a range of issues and problems. Forte is now, with the aim of adding to existing knowledge, strengthening its research in the field of geriatric care.
In the call "Increased knowledge on elderly care", Forte welcomed applications that may contribute to the existing knowledge about the problems currently experienced within geriatric care as a direct effect and consequence of Covid-19. Such knowledge may, for example, relate to the organisation, staffing, working conditions and effects of various initiatives including different living arrangements and support based on the elderly's own perspectives and experiences as well as the role of the immediate family and support to family carers.
The call resulted in a total of 38 applications of which 8 have now been granted funding in the form of two different types of grants – Knowledge Overview and Project. The total amount of grants awarded is SEK 8 million.
"The care of our elderly has been hugely impacted by the ongoing pandemic. The need for a strengthened research in this area was clear to see. The research projects for which we have now granted funding are of broad scope and content and I believe, will contribute to the development of knowledge in our society and make us better equipped to cope with future challenges in the field of geriatric care,' says Sofie Wallerström", Senior Research Officer at Forte and responsible for the implementation of calls for proposals.
This call for proposals was implemented within the framework of the National Programme on Applied Welfare Research. A list of the granted applications can be found on the page "Grant decision".