Cecilia Beskow new Head of Research and Evaluation at Forte
Cecilia Beskow has been appointed Head of Research and Evaluation at Forte. She will be responsible for leading and developing the authority's research activities.
Cecilia Beskow comes to Forte from her recent position as Department Head at the Swedish Standards Institute (SIS) and has worked as Head of Analysis and Social Policy at the trade union Unionen. She also has extensive experience of working with labour and organisational issues.
Cecilia Beskow has a research background and holds a doctorate from KTH Royal Institute of Technology in Stockholm.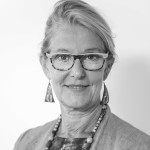 "I am very pleased that Cecilia Beskow will begin at Forte. With her extensive experience in social research and evaluation, she will contribute valuable knowledge to our organisation", says Ethel Forsberg, Director General of Forte.
Cecilia Beskow will begin her new position on 27 March 2017.
Cecilia Beskow, what expectations do you have for your new role?
"I look forward to being a part of building up Forte's key areas of expertise and to modernising and streamlining the already successful operations Forte is engaged in".
How do you think we can better utilise and get benefit from our research results?
"There is a great potential for Forte to become a sought-after source of expertise and knowledge. By further developing communication and advisory services in health, working life and welfare to all parts of society, especially the business sector, impact and utilisation of research results will increase."
Are there any issues that you will particularly focus on?
"Throughout my career I have always had a strong commitment to labour issues. I aim to develop and continue to build on the knowledge that already exists at Forte around working life. I will work to increase the importance of research in improving Swedish working life and to ensure that Sweden continues to be an important leader on these issues".