Uppsala Health Summit 2018: Care for cancer
Today there are more opportunities than ever to survive and even recover from cancer. But the growing global incidence and prevalence put high demands on healthcare governance and prioritisation. How can we pave the way for more equitable access to diagnosis and treatment?
Uppsala Health Summit is an annual conference that gathers leaders from academia, industry, governments, civil society and healthcare. Together, the participants discuss practical solutions to unlock implementation challenges and help improve the utilisation of medical advancements globally.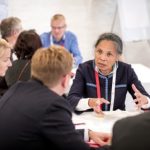 The theme of the 2018 summit is "Care for cancer". Over the next twenty years, the incidence of cancer is projected to increase by 70 %, a large majority of which will occur in low- and middle-income countries. How can we deal with the pressure this puts on already strained healthcare budgets?
The summit is by invitation only, but you may register your interest to participate at uppsalahealthsummit.se.
Forte is a partner of Uppsala Health Summit 2018.