Studies on gender and IT in health care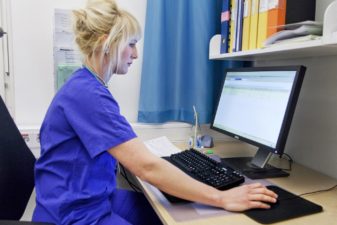 Almost all nurses in the Swedish healthcare sector are women. And almost everyone who builds the digital tools they use are men. This is one of the starting points for research in Uppsala about how digitalisation affects the working environment of nurses.
The healthcare sector has digitalised quickly. Today, doctors spend about half the working day in front of their computers, writing reports.
And when Sweden's 100,000 nurses complete about 12 million patient visits a year, it generates a huge amount of data, ranging from sedimentation rates and blood pressure to x-ray referrals and hours of surgery.
What happens in these interactions between patients, nurses and IT systems can be crucial to quality and safety in the healthcare sector.
"Poorly designed systems create stress and increase the risk of mistakes. Technology is one of many reasons that patient safety declines when the working environment is poor", says Åsa Cajander, Senior Lecturer in Computer Science at Uppsala University.
She is researching human-computer interaction and notes that despite the extensive digitalisation in health care, there is not much research on the effects on the working environment. And nothing at all from a gender perspective.
"There are many reports on how IT systems in health care have major user problems, so we know that there is a great potential for improvement".
"But there is a lack of research about the major working environment issues, such as how it affects communication, structures of power and opportunities for knowledge development", says Åsa Cajander.
She will now investigate the answers to these questions and a number of others, together with gender specialist Minna Salminen Karlsson and other researchers within a multidisciplinary group.
Whose opinion matters most?
In the male hierarchical healthcare system, nurses are seen as both subordinate and unable to contribute to the development and evaluation of technical tools, according to the project proposal.
Male dominance is just as strong in the field of computer programming. But when you get closer to human contact, whether it's customers or patients, it is women who dominate, for example when it comes to nurses in health care.
"Just look at the wages and compare computer programmers to nurses. Who do you think is more highly valued? Which of them will we listen to when making decisions within a IT project in health care?", Åsa Cajander asks rhetorically.
She and the other researchers will interview about 30 nurses and assistant nurses in three different fields in Uppsala: surgery, paediatrics and oncology. They will collect data via questionnaires to nurses and undertake 40 interviews with patients, relatives and decision-makers in health care, always with the working environment at the centre.
The researchers will also follow nurses in their technological daily life, filming and then analysing what is happening through participatory observations. Åsa Cajander has coordinated research on online patient records since it started in Uppsala in 2012 (DOME). The introduction initially faced a great deal of scepticism from doctors in Uppsala.
Today, all Swedish county councils have online patient records, to varying degrees and with different systems. The effects of online patient records are also monitored in this study: Have online patient records increased the workload and the amount of incoming calls? Are patients upset? Are patients making use of the opportunity to submit health declarations online?
A concrete goal for the research group is to provide a framework for decision support when IT solutions are being procured and introduced into health care, especially those that affect nurses. The working name is "eWorkEnvironment Framework". They hope it will contribute to a better IT working environment, and in the long term perhaps reducing the rate of sick leave among nurses.
"When a county council introduces new IT systems today, many different levels are involved, with different templates and different ways of thinking. They need to be supplemented with a working environment perspective and gender perspective, which I would claim does not exist today in any organisation".
"There is a lot about functionality and technical specifications when setting requirements for procurement, but no questions about how it will affect the working environment", says Åsa Cajander.
Involving the users
Nurses should, of course, be included in the discussions about the eWorkEnvironment Framework, so that it does not become a product that is not grounded in reality.
"I hope that there can be a transfer of knowledge from both sides: that we can learn from them and they learn from us".
However, it is common for new IT solutions to be introduced without first asking the end users, such as nurses. How can this be the case?
"There are many reasons as to why this happens, often a lack of time. It could also be perceived as a problem that users will describe different situations and different needs – people are of course not all the same".
"Another reason is the education of civil engineers which is based on models of reality and complex problem-solving where the end users simply do not figure".
"Often they do not know how to involve the users. But it is a very interesting phenomenon", says Åsa Cajander.
She tells the story of when the Academic Hospital's medical records system, Cosmic, crashed and was down for several days in 2016. During that time no one was able to record information and could only read an "emergency copy" of medical records.
"Cosmic is the heart of the Academic Hospital. Many people became very stressed that they couldn't report and document in the manner prescribed", says Åsa Cajander.
"But there were also some interesting comments about how nice it was, because suddenly there was much more time for patients!"
Text: Mats Fahlgren